Fayette Aquatic Center
Guthrie Smith Park
218 23rd Street N.E.
Fayette, AL 35555
Phone: (205) 932-4327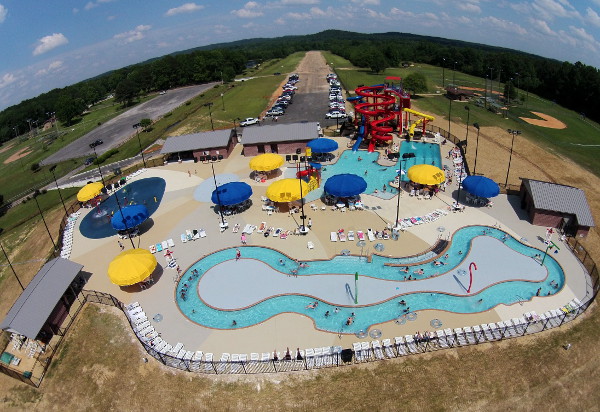 Click Here to visit their individual page for more information
Public Hours
Monday – Saturday 10 am to 5 pm
Sunday     1 pm to 5 pm
Admission Prices:
$10 per person     (under age 2 Free)                           
$7  Seniors
$7  Non-Swimmers
$7  Military Personnel
Private Parties
The AquaticCenter may be reserved for evening private parties at the following times:                                     5:30 – 7:30     and    7:45 – 9:45
Price is $500 for each 2 hours, payable at time of reservation. There will be NO REFUNDS but parties may be rescheduled as availability permits. The concession stand will not be open for parties.
Season Passes
Season passes are available for Individuals or Families at the following rates:
Individual Plan    $100
Family Plan        $100 for first member plus $50 for each additional family member
Pool Rules
ALL CHILDREN 12 YEARS AND YOUNGER MUST BE ACCOMPANIED BY AN ADULT
PROPER SWIM ATTIRE IS REQUIRED
CHILDREN WHO ARE NOT POTTY TRAINED MUST WEAR SWIM DIAPERS
ALL DIAPERS MUST BE CHANGED IN RESTROOM AREA ONLY
NO OUTSIDE FOOD OR DRINKS
NO GLASS BOTTLES OR CONTAINERS
NO ALCOHOL OR ANY TOBACCO PRODUCTS ALLOWED AT GUTHRIE SMITH PARK
NO PROFANITY OR IMPROPER BEHAVIOR
NO RUNNING, PUSHING, DUNKING OR EXCESSIVE SPLASHING
DIVING ALLOWED IN DESIGNATED AREA ONLY
NO ANIMALS ALLOWED IN THE WATER PARK
ONLY 1 PERSON AT A TIME ON THE SLIDES
NO SWIMMING AROUND THE SLIDE EXITS
EMPLOYEES ONLY ALLOWED INSIDE CONCESSION STAND
NO LOITERING IN PARKING LOT
THE CITY OF FAYETTE WILL NOT BE HELD RESPONSIBLE FOR LOST OR STOLEN PROPERTY
NO FACE MASKS
NO FLOATIES ( NOODLES, LIFE VESTS, AND PUDDLE JUMPERS ARE OK IN POOL)
SINGLE RIDERS ONLY ON THE BIG SLIDES
YOU MUST BE OVER 48″ OR PASS A SWIM TEST IF YOU ARE SHORTER TO RIDE THE BIG SLIDES/  YOU MAY NOT EXCEED THE WEIGHT LIMIT OF 250 POUNDS ON THE SLIDES
Concession Stand
The concession stand has many items to eat such as – pizza, cheese sticks, hot dogs, nachos & cheese, candy, chips, pickles, frozen juice, Pepsi products, Hawaiian Punch, Gatorade, bottled water, sweet & unsweetened tea.