Municipal Court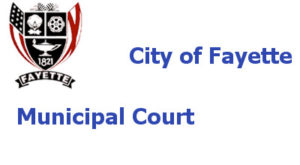 Municipal Court
of Fayette
203 Temple Ave North
Fayette, AL 35555
Phone 205-932-2086
Office Hours: 8:00 a.m. – 4:00 p.m. Monday – Friday
The Fayette Municipal Court convenes on the 1st and 3rd Tuesdays of each month, unless changes are necessary due to holidays. For a detailed schedule of court days, consult the City Calendar.
Municipal Court Staff
City Judge: Steven Nolen
Court Clerk: Dorrie Rushing
City Prosecutor: Dale Lawrence
Instructions for paying traffic offenses
If you have been charged with one of the offenses listed below
and would like to plead guilty and pay the fine you may use either of the two payment options:
—- You may send a Cashier's Check or Money Order payable to
Fayette Municipal Court in the full amount indicated below and sign in the lower left hand corner on the back of your citation, in the block that says, "Defendant's Signature," and return to:
Fayette Municipal Court
203 Temple Avenue North
Fayette, AL 35555
—- OR you may click the below to pay online with Visa, MasterCard, Discover or Debit Card. A third party processor will charge a 3.5% or $3.00 service fee for using this service.
If you do not appear in court or your payment does not reach the court office by the court appearance date on your citation, YOUR DRIVER'S LICENSE WILL BE SUSPENDED and a warrant issued for your arrest.
Traffic Violation Fees
Driving on wrong side of road
$185.00
Failure to dim headlights
$185.00
Failure to use child restraint
$190.00
Failure to wear safety belt
$  36.00
Failure to yield right of way
$185.00
Following too closely
$185.00
Improper backing
$185.00
Improper brakes
$185.00
Improper lights
$185.00
Improper muffler
$185.00
Improper or no rearview mirror
$185.00
Improper passing
$185.00
Improper signal
$185.00
Improper tag
$185.00
Improper tires
$185.00
Improper turn
$185.00
Improper window tinting
$185.00
No helmet (motorcycle rider)
$185.00
Operating a motor vehicle without a driver's license
$240.00
Running red light
$185.00
Running stop sign
$185.00
Speeding:Less than 25 MPH over posted speed limit
$185.00
               25 MPH or more over posted speed limit
$205.00
Stopping on highway
$185.00
Violating drivers license restriction or endorsement
$235.00
Operating vehicle without insurance
$415.00
The following traffic violations require an appearance in court:

Driving while license suspended
Passing a stopped school bus
Driving while license revoked
Racing on the highway
Driving under the influence
Reckless driving

All other traffic offenses require a court appearance.
Fine and court costs are subject to change without notice.