Library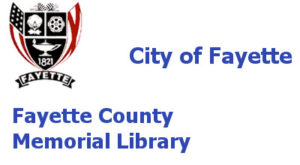 Jessica Crowe
Director
326 Temple Avenue North
Fayette, AL 35555
Phone: (205) 932-6625
The Library is open:
9:00 a.m. – 6:00 p.m. Monday – Thursday
9:00 a.m. – 5:00 p.m. Friday
Closed Saturday and Sunday
The city of Fayette supports the library as a means of providing the resources and services to meet the informational, educational, recreational and cultural needs of its citizens. The Library offers extensive print, non-print and electronic materials that encourage citizens to develop an interest in reading and lifelong learning. Fayette County Memorial Library enhances the quality of life of the community by creating a welcoming facility that encourages it users to utilize the latest in information technology to improve their intellectual skills through exciting, informative programming for all ages.
Please follow this link to see more information about the library.
Services Provided by the Library
Pre-School Story-time
Summer Reading Program for ages 2-12
Student Group Tours & Programs
Open After School Hours
Computers, Internet Access, and Printer Available
eBooks for Download
Video & Audio Checkouts
Magazine Checkouts
Voter Registration
Large-Type Print Books
Photocopying
Fax Transmittal
Free Cards to Senior Citizens (age 65 +)
Paperback Trade Books
Literary Programs for the Community
Services for the Blind
Storage for Historical Minutes – Local Clubs & Organizations
Genealogy Department
Free Club Room for Community Use During Library Hours
The Fayette County Memorial Library was initially opened in 1922 with 68 donated books. From this humble beginning, the library now contains 22,250 material records. This phenomenal growth is due to a determined and dedicated group of Fayette citizens who never lost sight of their dream to make the written word available to everyone in Fayette County.