Economic Development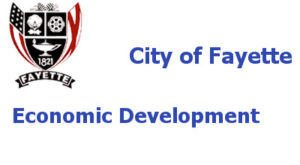 Mayor Rod Northam
City Government
(205) 932-5367
Judge Mike Freeman
County Government
(205) 932-4519
With a well trained workforce, ample energy resources, and available building sites, Fayette presents many possibilities and offers great potential for companies wishing to expand into the southeast.
Drawing upon resources from the University of Alabama and Bevill State Community College, Fayette seeks to maintain a local citizenry with the education and skills needed in today's workplace. Working with these institutions, Fayette has created a local workforce capable of supplying employees for companies looking to take advantage of locating in our area.
Our Economic Development Board works with several state and local agencies to keep abreast of developing trends of employer interests and needs. Keeping a state of employable readiness allows Fayette to provide skilled employees when needed. Part of this support to employers is provided by the local office of the Alabama Career Center located on the campus of Bevill State Community College.
C3 of Northwest Alabama works with the city of Fayette to provide assistance to companies in locating desirable property, tax incentives and other economic events.
Fayette supports the Alabama Entrepreneurial Research Network (AERN) through the University of Alabama as it promotes small businesses and gives them the resources to come into being or expand.