Airport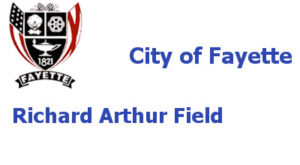 Kip Madison
Manager
100 21st Street N.E.
Fayette, AL 35555
Phone: (205) 932-3819
Hours: 9:00 a.m. – 4:00 p.m. Monday – Friday
Emergency or after hours, call city hall at (205) 932-5367
Richard Arthur Field (M95) is a public use airport with a 5,008 x 80 foot asphalt paved runway to facilitate small planes including jets.The parking facilities include a large hangar that can accommodate up to 5 planes, T-hangers for 7 others and tie-downs for 15 uncovered planes.
Jet A and LL100 fuels can be purchased by credit card at all hours. Fueling is self service only.
A courtesy car is present for day use or quick trips around the city. Please call ahead to ensure its availability. Adjoining the airport are KFC, Taco Bell and Subway restaurants.
AirNav has detailed information about Richard Arthur Field.
Richard Arthur is home to the regional AIR EVAC LIFETEAM helicopter which provides air transport medical services.