Water Board
Daniel Brasher
Director
311 2nd Avenue SE
Fayette, AL 35555
Phone: 205-932-5344
Office Hours: Monday – Friday 8:00 am – 4:00 pm

The Fayette Water Board now provides the convenience of paying your water bill on-line. Just click the button. below.
The Fayette Water Department strives to provide the very best quality water and services at the lowest possible cost to the citizens of our city. We constantly upgrade our treatment and distribution processes to make available a reliable supply of safe, clean water and environmentally effective sewerage collection and treatment. Expansion and modernization of our facilities is a continuing process in order that we may always supply our customers with the quality and quantity of water they need. These efforts require long range planning and fiscal responsibility in building adequate financial reserves to insure the future water and sewage needs of our community.
The Fayette Water Board serves approximately 2,800 customers in the towns of Fayette, Belk and those served by the Fayette County Water Authority. Our main source of water, Luxapillila Creek, is itself capable of furnishing the entire county.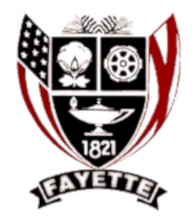 City of Fayette
203 Temple Avenue N.
Fayette, AL 35555
Phone: 205-932-5367
Fax: 205-932-5788
email: cityhall@fayetteal.org