Churches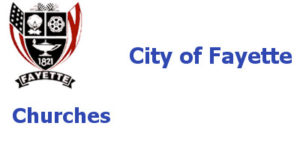 The churches of Fayette welcome you and encourage you to make a home among their people.
[divider_flat] [threecol_one] Calvary Baptist Church
Central Church of Christ
Fayette Church of Christ
Church of Jesus Christ
Fayette First Baptist Church
First Free Will Baptist Church
First United Methodist Church
Gibson Chapel Baptist Church
Grace Baptist Church
McConnell Chapel AME Zion
Mercy Point Ministries
Mountain View Apostolic Ch.
Peaceful Rest Baptist Church
Southside Baptist Church
St. James CME Church
St. Michaels Episcopal Church
Victory Temple Church of God [/threecol_one] [threecol_one] 3715 Highway 171 North
415 16th NE
809 2nd Avenue NE
605 3rd Street SE
432 Temple Avenue North
918 Temple Avenue North
412 Temple Avenue North
5540 Highway 171 North
1656 Temple Avenue North
465 3rd Street NW
534 Temple Ave. North
840 Gordo Road SW
…..
133 10th SW
425 1st Street SW
431 10th Street NW
438 3rd Street
[/threecol_one] [threecol_one_last]
932-2658
932-5683
932-5505
…..
932-5562
932-7354
932-5544
932-4576
932-5194
932-2226
932-3639
932-8852
932-8422
932-6804
932-4517
932-6929
904-8401
[/threecol_one_last]