Residents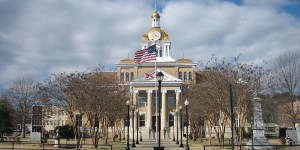 Fayette and Its People
From its beginning as a small cluster of people forming an isolated village in land only recently
opened to settlers, the people of Fayette have always shown a pioneer spirit as it has grown through prosperity and overcome times of adversities. Hard working people who have adapted to changing circumstances in their lifetimes have characterized the city of Fayette. This adaptiveness has made it possible for the citizens of our town to endure the difficulties of the pioneer life, the devastation of the Civil War, the burning of three courthouses and still to look with expectation to the future.
The burning of the courthouse in 1910, along with most of the business district, spurred a renewal that saw the town through the next fifty years. This period saw the establishment of the first high school and several modernizations that formed the infrastructure for the highly creative economic expansions in the 1920's.
After the end of World War II several companies with their beginnings in Fayette grew in prominence and value until regional and national companies purchased them. Among these were Flav-O-Rich Dairy, Fayco Concrete and Corrugated Pipe, and Ox Bodies, the largest producer of class 6-8 dump bodies in the U.S.
While NAFTA and the Great Recession have taken their toll here, just as in other small towns, the leaders and individuals continue to display a work ethic and creativity that promises future success for the city. The investment of the newly opened Aquatic Center proves the hope and spirit of the early inhabitants continues to bring about great accomplishments for the town.
The airport is home to a regional Air Evac Life Team helicopter. The hospital is a modern extension of Druid City Health Systems in Tuscaloosa. Bevill State Community College is an active participant in city affairs. Alabama Power maintains a Regional Crew and Maintenance Headquarters here. Much of the infrastructure for future growth is in place and waiting.
Fayette also maintains an appreciation for the aesthetics as demonstrated by its support of the Art Museum and Fayette Beautification program plus new initiatives for the Sipsey River and Northwest Alabama Bird Trail.
With a rich history of accomplishments, the people of Fayette have great pride in their city and high expectations for its future.