Sports
A new season began April 4th with Opening Day ceremonies at Buster Hallman field in Guthrie Smith Park. No other sports gathering has the tradition and ceremonial  activities as the Opening Day ceremonies. It is an annual rite that brings players, family members and curious spectators to the park each spring.
After the announcements, introductions and words of thankfulness to all who make the Park and sports seasons possible, the coaches and players are introduced one by one. The name of every coach and every player on every team in every age bracket is called out as they  race from the dugouts to take their places on the field. All the baseball players and all the softball players are recognized until they are all assembled as one large group.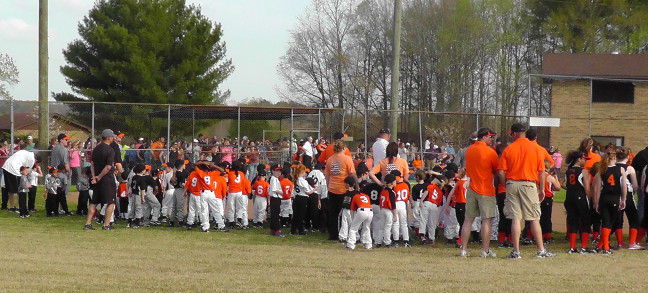 And then it's "Play Ball".
The several ball fields at Guthrie Smith Park create a relaxed atmosphere that draws spectators for the games and for fellowship.  The open air, ease of movement among the ball fields and adjacent playgrounds makes the baseball season most attractive to those desiring to be outside and among friends. It is a time for casual pleasure at the park with friends and hot dogs from the concession stand. Come this spring and enjoy the games and your neighbors.