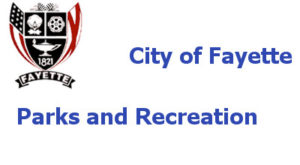 Lance Holliman
Director
218 23rd Street N.E.
Fayette, AL 35555
Phone: (205) 932-4327
Office Hours: 8:00 a.m. – 4:00 p.m. Monday – Friday
Park Hours: 6 a.m. – 10 p.m.
Recreation and leisure activities have become an increasing part of people's lives and Fayette offers ample opportunities for the sports enthusiast through its seasonal sports programs.
Fayette Country Club offers golf, tennis, swimming, and an attractive clubhouse for various functions.
Numerous fishing lakes are nearby, and Lake Tuscaloosa is a favorite spot for area sailors, boaters, and skiers. The renowned North River Yacht and Golf Club, a feature attraction, is less than an hour away.
These facilities are provided for rental to the public under the following conditions and rates:
ALL RENTAL FEES ARE DUE WHEN MAKING A RESERVATION.
There will be NO REFUNDS but CANCELLATIONS MAY BE RESCHEDULED FOR ANOTHER DAY.
Facility

 

Hours
Rates
Community Center

 

8:00 am –   4:00 pm
4:00 pm – 11:00 pm
All day
$75.00
$75.00
$125.00
Small Pavilion
10:00 am –   2:00 pm
2:00 pm –   6:00 pm
6:00 pm – 10:00 pm
All Day
$25.00
$25.00
$25.00
$75.00
Large Pavilion
10:00 am –   2:00 pm
2:00 pm –   6:00 pm
6:00 pm – 10:00 pm
All Day
$50.00
$50.00
$50.00
$100.00
R V Parking
Power, Water Hook-ups
& dumping site available
Daily
$15.00
For first time sign-ups, you are required to furnish Park & Rec. with a copy of your child's birth certificate.
There will be a draft to assign players to teams.
Absolutely no sign ups will be accepted after the draft has taken place.
Other Venues
Other sporting activities are available at
Fayette Country Club
PO Box 841
Fayette, AL 35555
Phone: (205) 932-4079