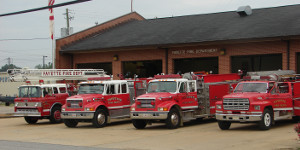 Shannon Taylor – Fire Chief
118 First Avenue N.E.
Fayette, AL 35555
Phone: (205) 932-5311
E-mail: fayettefire32@gmail.com
Office Hours: 8:00 a.m. – 4:00 p.m. Monday – Friday
Emergency – Dial 911
Read more about us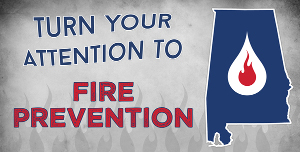 Fire prevention is important. We have individuals certified through the Alabama Personnel and Standards Commission as Fire Inspectors to conduct inspections before anything happens. You may view a checklist of items for YOUR HOME or BUSINESS to increase your safety from a fire.
Our mission is to serve the needs of our citizens and protect them from loss of life or property because of fire and natural or man-made disasters by providing quality fire and rescue services to the best of our ability.
Fire Chief Ellis
– – – – – – – – Recent News and Announcements – – – – – – – –
November Report for Fire Department Activity can be reviewed here.
October Report for Fire Department Activity can be reviewed here.
The Fayette Fire Department is a combination department made up of 7 career firefighters and several volunteers. We have 2 stations; station 1 is located in the downtown area and station 2 is on the north end of town by the airport. We operate with 3 Engines and a Ladder. Our responses range from all fires to rescues and haz-mat situations within our 39 square mile first response area.
Firefighters
We provide community services such as installing and adjusting child car seats at no charge.
Car Seat Installation
We offer the following training through the American Heart Association – Heartsaver CPR with AED, BLS for Healthcare Providers, and Heartsaver First Aid CPR and AED. If you are interested in taking any of these classes for yourself or a group contact the Fire Department for class cost and schedule.
Training Classes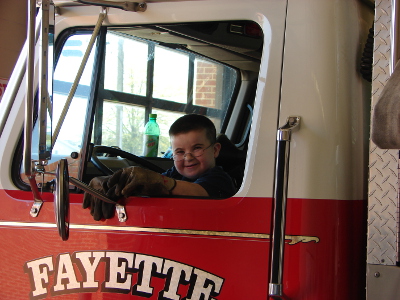 A station tour is a favorite of the youngsters and a way to introduce them to fire safety. If your organization or group is interested in a fire safety presentation or tour, contact the department to schedule a time. We also offer educational programs on a variety of fire and life safety topics at no charge.
Fire Station Tour
We also operate a program where volunteers are trained in all facets of firefighting and are allowed after training to assist in actual incidents along side career firefighters. Anyone interested should come by the Department to inquire about the program.
Volunteer Training

The Fire department has regular scheduled training based on National Fire Protection Association (NFPA) standards, every 1st and 3rd Thursdays. During this training, the career and volunteer firefighters train together on a variety of firefighting task. This consists of live fire training and extinguishment, fire behavior,  rescue training, vehicle extrication training, use of personal protective equipment, pumper operations and water supply operations. Firefighters are required to get a number of hours training each year.
Year Round Preparedness
Business Inspection Form
Home Inspection Checklist
To view more free education materials or learn what you can do to prevent fires and how to react in times of emergency check these websites:
National Fire Protection Association http://www.nfpa.org/safety-information
U. S. Fire Administration  http://www.usfa.fema.gov/citizens/
The Fayette Fire Department is giving away smoke alarms to residences in our response area. Contact the department for more information.