Fire & Rescue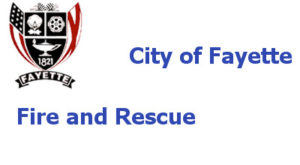 Shannon Taylor
Fire Chief
118 First Avenue N.E.
Fayette, AL 35555
Phone: (205) 932-5311
E-mail: staylor@fayettefiredept.com
Office Hours: 8:00 a.m. – 4:00 p.m. Monday – Friday
Emergency – Dial 911
Our Mission
To protect the lives and property of our citizens, patrons, and community by delivering exceptional emergency services, promoting effective fire prevention, and creating an atmosphere that encourages growth, innovation, awareness, and professionalism.

Fire Chief Taylor
[divider_flat]
Building and Life Safety Division
In conjunction with other city departments, the Fayette Fire Department manages the permitting, construction, and approval of all new and existing structures within the city and police jurisdiction.
The City of Fayette utilizes the ICC code series in addition to its local planning, zoning, and historical ordinances. Developers, contractors, and home owners are encouraged to contact us prior to beginning any project. By law any building or interior that is being erected, constructed, enlarged, altered, repaired, moved, improved, converted or demolished requires a permit.
All commercial, industrial, assembly, and educational occupancies are required to have a current Certificate of Occupancy. New business license requests require a life safety inspection whether or not a permit is required in order to complete the licensing process.
Please contact 205-932-5310 with permitting, licensing, or inspection questions.
Please use the following links for more information.
Volunteer Information
Adopted Codes
Municipal Ordinances
Business Licensing Information
Business License Application
Permit Application
Home Fire Safety Checklist
– – – – – – – – Recent News and Announcements – – – – – – – –